Unforgettable escapes in a restored heritage post office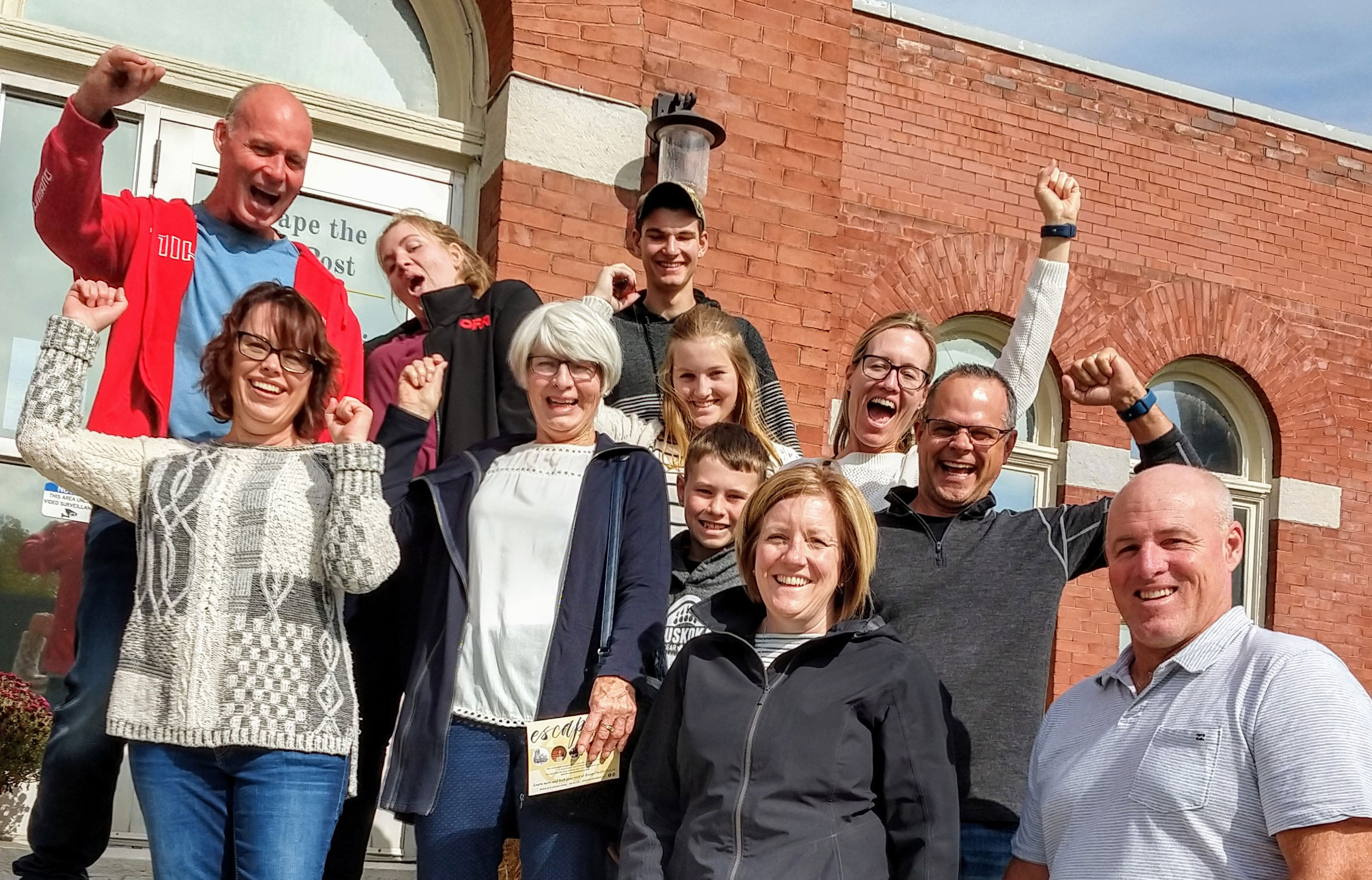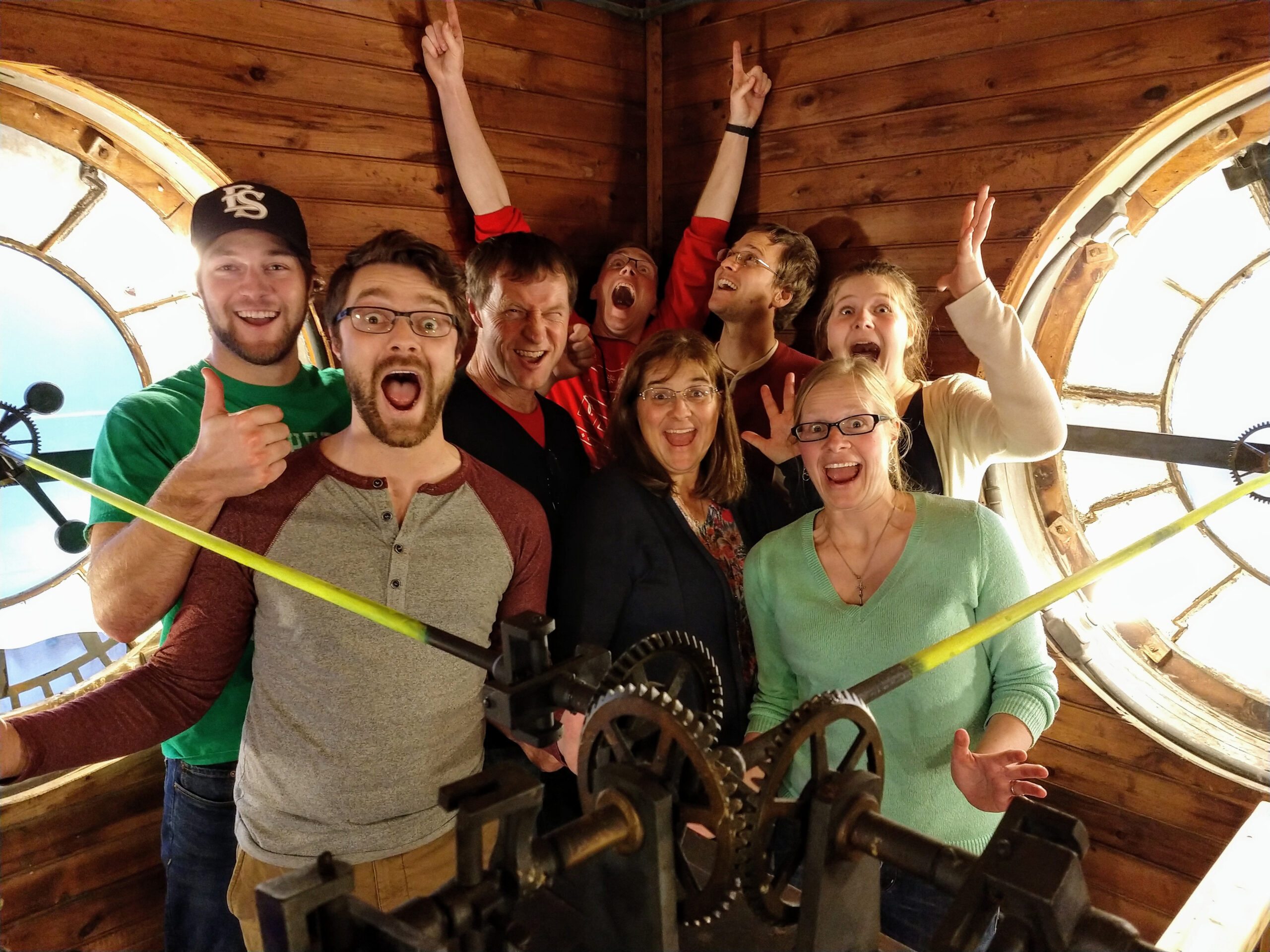 Visit a remarkable heritage building to work as a team and solve puzzles in one of Ontario's most unique escape rooms.
Your goal? Beat the clock, climb the tower and ring the bell for all to hear:
there's a new postmaster in town.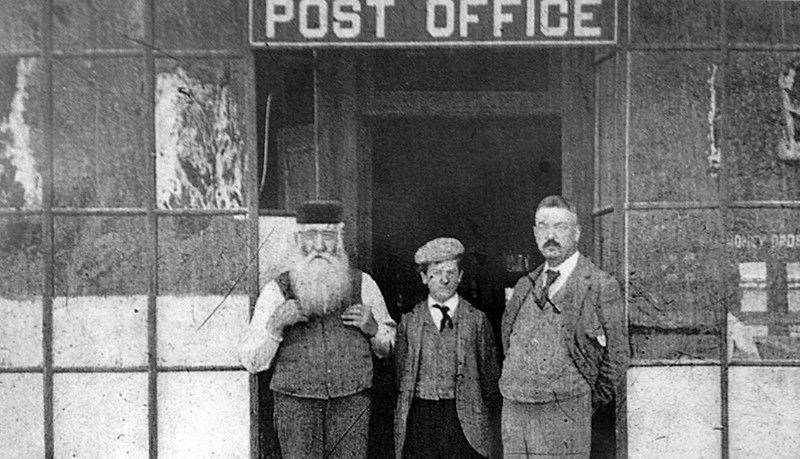 After being hidden away for more than a century, the vision of Harriston's original postmaster has come to fruition.
Can you solve The Postmaster's Riddle?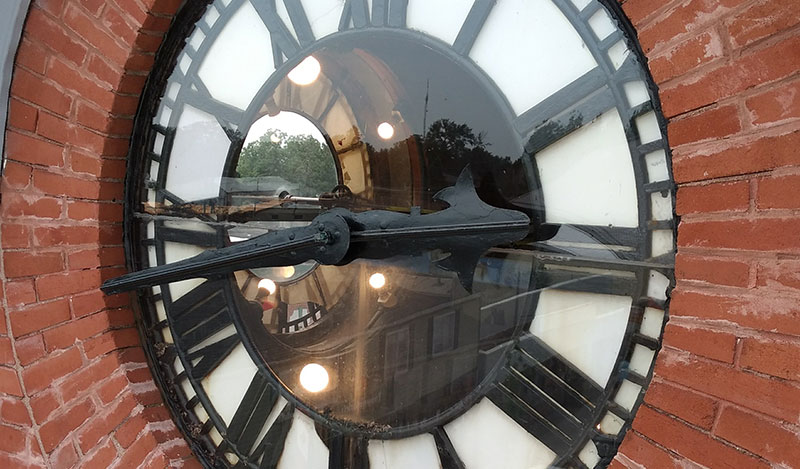 Coming Soon!
Time's ticking on the development of our second escape room – Clockworks!
Escape the Old Post Reviews
They were very nice to work something out with us! The place is super cool with some history to it. The escape room has a lot to do and very tricky puzzles. Hopefully we can come back some day and try to finish!

Nathaniel Lantz


September 18, 2023

The escape room was so enjoyable and well thought out. The whole experience was a blast and we will definitely be returning to finish the second portion (it is meant to be done in two sessions, if you are planning on visiting). Thanks so much!

A Teeter


August 10, 2023

I highly recommend Escape The Old Post! Our family had a wonderful time working through the puzzles to ring the bell!! Jacob the gamemaster truly goes above and beyond to make sure you have the best experience possible, which includes cheering you on when you have successfully solved a puzzle, or giving a helpful little hint when you're getting stuck somewhere! 😉 The room is very cleverly designed, and many of the puzzles require team work, which makes it fun for a group! 😊 3 of our group members had completed the room a few years ago, with other friends, and so we had the exciting and fun experience of being co-gamemasters, which meant being able to watch the rest of our family work at the puzzles in the room, and sharing clues when needed. It was the best possible way to be involved with the experience the second time, while not giving away too much info by doing the Escape Room with the newbies! Again, thank you for allowing us to have a fantastic, fun experience, and being so accommodating to our group! For anyone looking for a fun-filled, intense and exciting evening, with family or friends, be sure to check out The Old Post!! 😀😊 you won't be disappointed!!

Eva Beth Martin


August 1, 2023

This was one of the best, if not the best, escape rooms we've done! It is a challenging room, but the game master is helpful and can provide some guidance when needed. The game was full of surprises and neat puzzles. We only did the first part, but will definitely be going back to do part 2 sometime!

Sheyenne Hooghiem


July 23, 2023

We thoroughly enjoyed our team building exercise involving 7 Directors and 2 Staff at "Escape the Old Post". It was amazing how each individual collaborated and worked together to solve the various clues and puzzles. It was interesting to see their dynamic leadership skills at work in a fun atmosphere. A great experience!

Anne Schneider


July 14, 2023

I was able to take my grade 7/8 class to the Old Post for a field trip. They were amazing with the students and accomodating with the space both inside and outside for the groups to have lunch and to play game/watch the other groups work their way through the escape room. My students loved the experience and are already planning how to return, even trying to convince myself and their principal we should return this school year. It is a great team building experience that allows for students of all types and abilities to participate and to show their strengths. Students use math, geography, problem solving, reading, writing, team work and other skills to find their way through the puzzles. I would highly recommend giving the Old Post a look for your own class trips.

Janelle Vogel


June 9, 2023

Our group of 10 thoroughly enjoyed Escape the Old Post. After an absolutely delicious dinner of pizza, panzerottis, salads and Caesar's at Harry's Stone restaurant we walked down the street to the Old Post. We loved the charm of the old building, the history, cleanliness, and the quality of the whole set-up. Sadie, our escape master, was excellent in providing the background and rules of the experience and got us started quickly and efficiently. We worked very well together and started finding clues right away. There was a great variety of puzzles to solve, keys to find, paddle locks to unlock, etc. A lot of thought and creativity went into all the steps in the sequence. Sadie was very helpful in guiding us when we needed it and came up into the attic a few times to assist us. Two improvements that could be made are 1. a louder speaker system (or she could speak louder?) because sometimes we had to get her to repeat her clues and instructions, and 2. more fans or an upright air conditioner as it was a very hot day/night and the smaller and higher rooms were very hot (we were sweating and parched by the end so a water machine or bring your own water would be great!). Sadie compensated by getting us glasses of water from the kitchen and debriefing outside where it was cooler. After a lot of teamwork, thinking, fun and laughs we were successful in completing the first part of the challenge. Yeah!! We plan to return in the fall/winter when it is cooler to try the second part. All 10 participants would highly recommend Sadie and Escape the Old Post as a group activity for a special occasion or just for the heck of it!! Thanks so much for a memorable experience that we will definitely be telling our friends and families about!! It was a great way to celebrate my 56th birthday with lifelong friends!👍♥️🌹

rose kellington


May 13, 2023

Booked for a bachelor party activity, everyone loved it and was very impressed with the amount of detail put into the puzzles. We had to reschedule due to an illness and the gamemasters (Micheal and Jake) were super accommodating. Can't recommend this place enough!

Chris Vandevalk


May 8, 2023

So much fun! First timers - group of 6 - was for my birthday! The building itself is absolutely beautiful, they have kept so much of the original charm and incorporated allot of it into their escape room. The game master is great, he made the experience fun, gave us some help along the way and gave us a few laughs! Going in as a newbie, we didn't know what to expect but WOW. So many twists, turns and fun/clever puzzles. We will be back as we haven't finished part 2, and there is so much more to discover. Highly recommend trying it out! Thank you to the team! What an amazing piece of history you have and with how you've done things and restored parts to its original beauty is something to be incredibly proud of!

Megan Horrigan


May 7, 2023

What a phenomenal time! Would highly recommend to any group looking for some fun and adventure. Jacob our Game Master was gracious, enthusiastic and well informed on the history of the Old Post building itself. The inquisitiveness, playfulness, organization, and superb construction made it the best Escape Room- bar none; that any one of our group had ever experienced. RUN don't walk to Escape the Old Post!

Vanessa Hudson


April 18, 2023

We had an amazing time!! The history of the building made this escape room so unique - the staff was very kind and knowledgeable and the room itself was incredibly designed!! 10/10 recommend!!

Brittany Taylor


April 15, 2023

My favourite escape room so far! It is so creatively built and has a really good variety of tasks and puzzles. We didn't make it all the way through but it's definitely one we'll come back to until we do!

Kendra Vander Kooij


January 10, 2023

Beautiful building with some really cool history. Really enjoyed our time there even as a big group of 9 there was lots to keep us all busy and working away. The game master made our time more enjoyable making sure we weren't getting too far off track, that we had snacks etc. A really fun experience for any ages. Definitely will be returning to ring the bell

Jasmine Lawlor


December 19, 2022

Challenging, surprises around corners you don't expect! Our team had an awesome evening at the Post, from a catered dinner in the Cafe to great direction from the GameMaster Jacob to a last minute thrill of success! A great team building experience and tons of fun! We can't wait to come back for Part II!

Cindy Beatty


September 25, 2022

My hubby and I host a Cousins Camp each year for our grandkids. This years theme was 'Mission Possible', so of course, we needed to do an Escape Room. The kids came back from Escape the Old Post in Harriston sooooo excited they could hardly get the words out fast enough! They loved, loved, loved it! Jacob was awesome to work with. SO FUN!!! Definitely need to do this again next year!

Margaret Oakey


August 14, 2022

Just….wow!!!! What an amazing time we had at 'Escape the Old Post'! Not easy to find something that the whole family enjoys…but this was bang on. We booked the excursion for my son's 17th birthday and we had an absolute blast. Delicious food and lovely folks in the cafe, and Jacob was a fantastic Games Master. They were kind enough to personalize the experience for the birthday boy, by hiding a few of our gifts and incorporating some of his favourite music, as well. The clues and puzzles were varied, so there were twists and turns to suit everyone's way of thinking. Definitely recommend for a family outing, or team building event for the office. Put on your thinking caps and get ready for some fun!

Kerri Gallop


August 2, 2022

If you are looking for an extremely fun way to spend a couple of hours then this escape room experience is it. Packed with excitement from the beginning to the end. The 90 minutes goes by so fast and leaves you wanting more which is what makes this escape room unique…you can come back to finish the second half another day! Loved it and looking forward to our return 😀.

Wendy L


July 26, 2022

Amazing experience, gamemaster was so helpful. Puzzles were witty and made sense (but a little tricky). Overall great time

Tristan Majetic


July 15, 2022

Escape the Old Post was a very fun experience. There were six of us in the group and we all had escape room experience, and we only made it about 60% of the way through. This escape room is definitely different than other ones but super fun. The game master explains everything and does a really good job helping you out through the game. I would highly suggest anyone go here and have an amazing time. We will definitely be going back the next time we are in Elora.

Sarah Peck


July 10, 2022

We had a lot of fun and laughs. it was harder then I thought and the time just flew by. We didn't get to ring the bell,but better luck next time. I would recommend this to anyone who likes a good challenge.

Gord Dillon


April 17, 2022

What an amazing experience. Very detailed. Highly interactive. A lot of work was into this escape room. Gamemaster Mike was super fun and his passion for his role is extremely evident. The only bad thing I can say is that it's so much fun that time went by too fast. 100% worth the drive if you live outside the area. Go team Hodge Podge

Christopher Mattix


March 27, 2022

Went this weekend with a group of friends and had an amazing time! We had gone to an escape room before in the city but it was nowhere near as fun and intricate as the Old Post was. We will definitely be back again to try our luck at winning and for anymore rooms they make there!

Ang C


March 27, 2022

What a fantastic time we had. I have never been to an escape room or even really know what one was. My daughter knows all about them and has always wanted to go. So we decided to take her for her Birthday, it was awesome! I didn't know what to expect so I went with an open mind and WOW! I found myself running around like crazy trying to find the next clue! I would recommend this to anyone who needs to get out of the house and try something different. You won't believe it once you get going. Thanks again for a GREAT time. We can't wait to go back... 🙂

Mike "Ozz" Barron


February 25, 2022

Escape the Old Post was a fun and challenging adventure. It works for groups of all ages and we will definitely be back!

BK Moore


December 31, 2021

We had a great time at the Old Post with 2 family teams competing to ring the bell! Michael and team were very accommodating from our first inquiry. The event space, hospitality and the challenge of the room made for a great night. We will be back to finish what we started!!! The Bross Family

Josh MacDonald


November 29, 2021
FEES
Adults: $35 + HST per person
Students & Seniors (55+): $28 + HST per person
GAME TIMES
Thursdays: 7:15 p.m.
Fridays: 5:15 p.m. / 8:15 p.m.
Saturdays: 10:15 a.m. / 1:15 p.m. / 4:15 p.m. / 7:15 p.m.
Your game will last 90 minutes. Most groups win the game on their second visit.
Additional time slots available for business and special interest groups. Please email us to learn more.
LOCATION
Escape the Old Post is located on the 3rd floor of the historic former Harriston post office, in the centre of downtown Harriston.
Looking for a memorable or last-minute gift for a friend or family member?
Escape the Old Post gift certificates make an amazing experience gift. They're redeemable online, and you will receive a printable version with online redemption code to give to the recipient.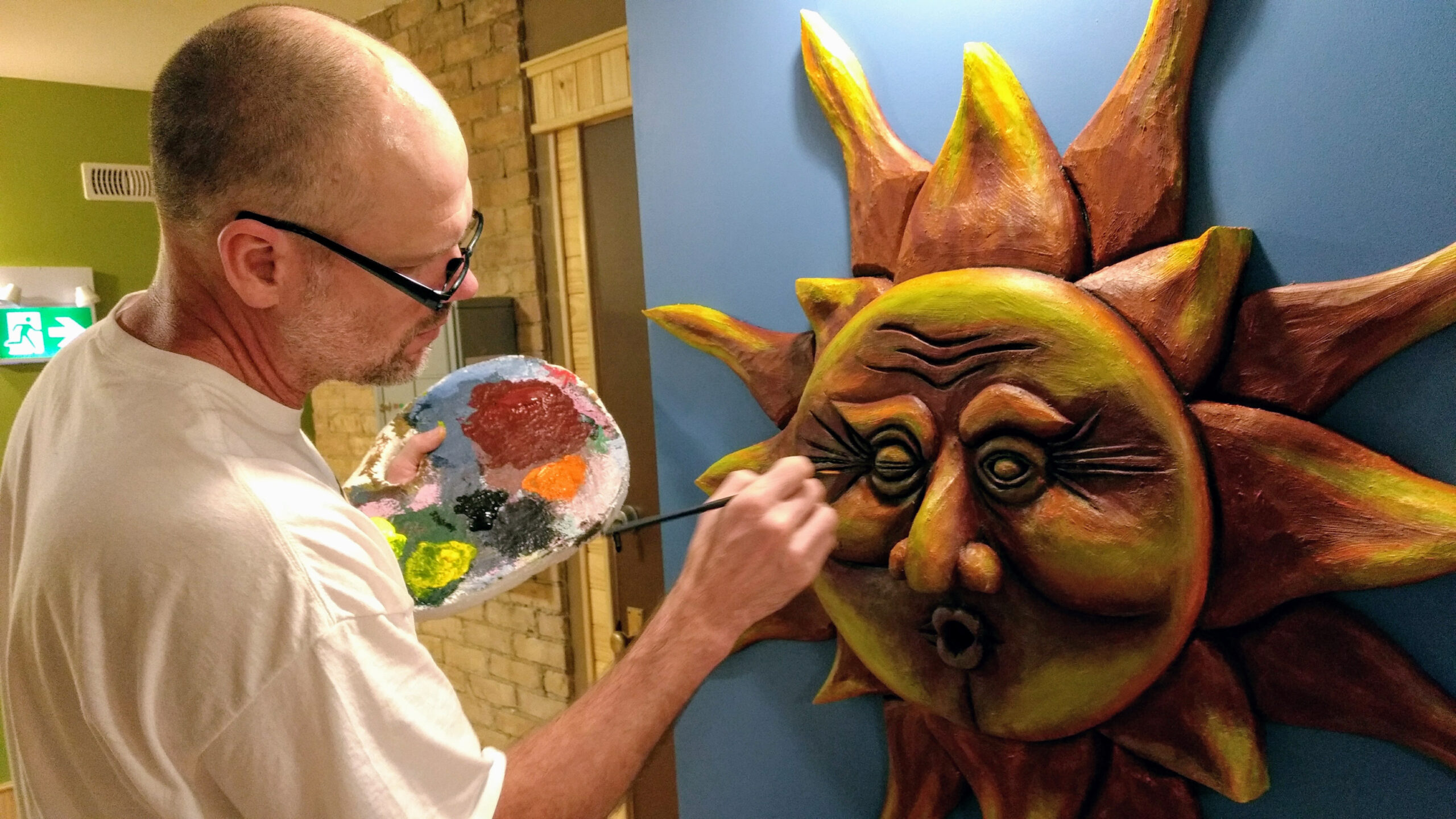 The Old Post's resident designer, artist and creator of our escape games, Tony Hale, reflects on the origins of Escape the Old Post and the Postmaster's Riddle in this reflective piece.
read more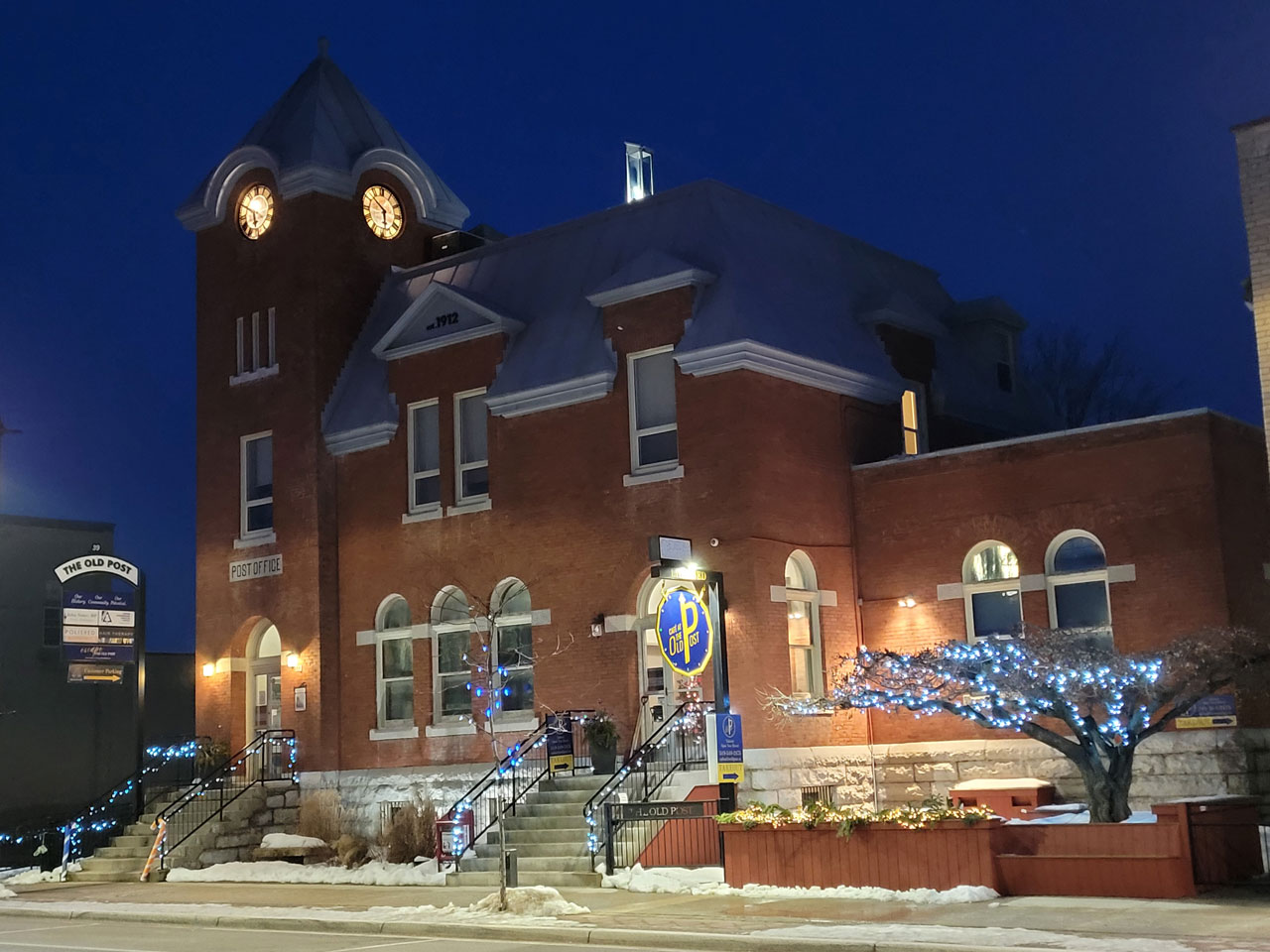 Learn more about the storied building that inspired our escape rooms, including our community and additional spaces.